.: Welcome to our site

This club was created to stimulate the interest of its members and the general public in the study of Mineralogy, Geology, Paleontology, and Archaeology

.: Club Meetings

Meetings held at 10:00 AM on second Saturday of each month (except July & August), unless otherwise noted.

***NEW MEETING LOCATION FOR 2016***

Community Room at the First National Bank and Trust

1625 10th Street, Monroe, WI

​Located on the north side of the downtown historical square across from the Courthouse.

Next Meetings

Saturday, April 9th, 2016. No meeting in April. The BLGS 2016 annual show April 9th & 10th.

Saturday, May 14th, 2016. Reports/discussions on the 2016 annual show. Meeting activity: wire wrapping by Teri.

Hope to see you there!

Prior Meetings

Saturday, March 12th, 2016. Meeting activity: Faceting basics by Neal Trickel. Meeting discussion about 2016 annual show on April 9th & 10th.

Saturday, March 26th, 2016. Field Trip and Meeting: Fishpond Bagging at Dan & Laurie Trocke's residence. Meeting discussion about 2016 annual show on April 9th & 10th.
.: Our Annual Show
Badger Lapidary & Geological Society, 46th Annual, Rock, Gem, Mineral, & Fossil Show
Dates: Saturday April 9th & Sunday April 10th 2016
Hours: 9am-5pm Sat & Sun
Location: Monroe Senior High School, 1600 26th St., Monroe, WI 53566.
Description: Ten dealers, excellent speakers, many beautiful club displays, fluorescent mineral tent, lapidary demonstrations, club sales table, hourly door prizes, educational films.
Activities for kids: Fishpond, spinner game, scavenger hunt, gold panning, and roaming rock wizard.
Food: Full Menu.
Free admission: Free-will donation and free parking.
Show Contact: Debbie Wehinger, 708 W 2nd Avenue, Brodhead, WI 53520; 608-897-2608; jdrules3@gmail.com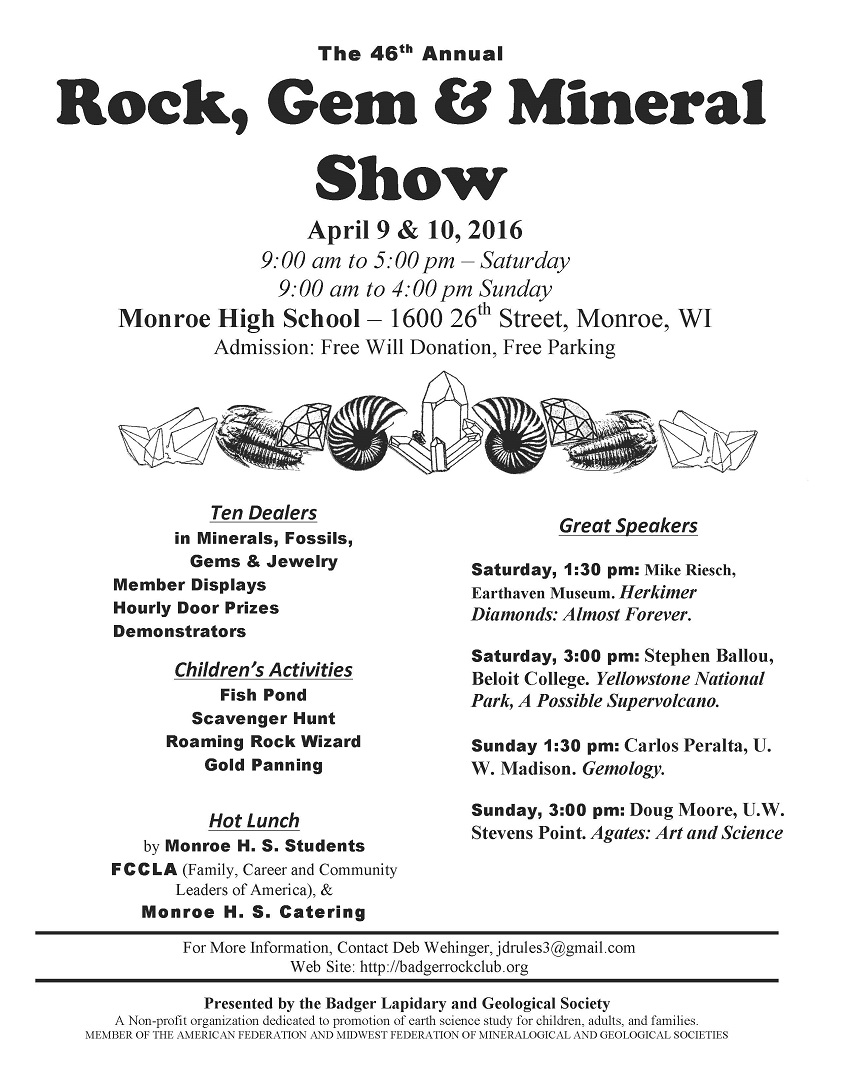 ***Download the 2016 Show Quarter Page Flyer and the 2016 Show Full Page Flyer for your viewing - or to share!***